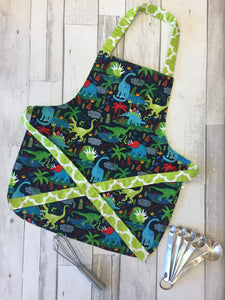 Do you have a child that loves to help in the kitchen? Our aprons are the perfect accessory for your budding chef! Double sided, with a fun 100% cotton print on the front and a coordinating 100% cotton backing, neck strap and ties, our aprons are built to withstand continued use and washings.
The toddler apron is perfectly sized for kids 18 months to 3 years and is approximately 16 inches in length from the chest down.
Please send us an email or message to our Facebook page to inquire about a custom order from our selection of over 300 fabrics.