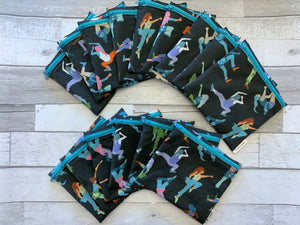 A birthday favour idea that's both fun and functional! Select up to 2 prints for orders up to 20, or up to 4 prints for orders of 20 or more.  Simply send us a message on one of our social media pages to inquire about available prints, or have us help you find the perfect print for your birthday theme! 
Pricing is based on quantity ordered, with a $1 discount per bag for orders of 10 or more and $2 discount per bag for orders of 20 or more. 
Please allow 1-2 weeks for order processing plus applicable shipping time. 
Want to reduce or eliminate single use plastic bags in your life and add a bit of fun to your lunch? Reusable snack bags from Evercoast Handmade are a great solution and can be used for both wet and dry foods.
All bags are made with a 100% cotton outer and a waterproof, food safe and CPSIA compliant polyurethane (PUL) lining. Bags can be wiped between uses and are machine washable and dryable when needed.
Sandwich bags measure 6.5x6"