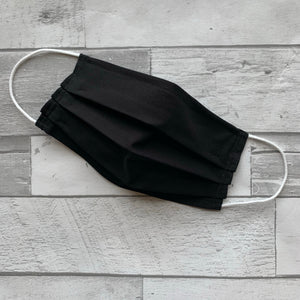 Need a way to reduce the potential of 'speaking moistly' on someone during our current pandemic? Help to keep your germs to yourself with a non medical grade face mask! Made from 2 layers of prewashed and tightly woven quilting cotton, our masks feature:
- a pleated front for a more universal fit
- soft elastic ear loops
- a metal nose bridge to mold tightly to your face
- hidden filter pocket 
- top stitching for durability 
- available in adult and child sizes (not recommended for children under 2)
* please note, non medical grade face masks may not prevent the wearer from contracting COVID-19 and do not replace current public health recommendations such as social distancing and frequent hand washing.